Arki News >
Arki-Bond C27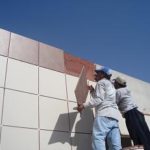 Arki has taken yet another step in its on-going mission to make it easier for the designers to achieve results that are more professional.
Arki, the innovative manufacturer of construction chemicals, has again fullfilled the request of the end-users of their products with introduction of Arki-Bond C27.
Arki-Bond C27 is a facade tile adhesive, which can fix all kinds of tiles and, due to recent innovations in raw materials technology, Arki-Bond C27 is exceptionally cost effective.
Arki-Bond C27 is formulated to provide enhanced adhesion and flexibility, which makes it ideal for the installation of large tiles exposed to thermal and mechanical stresses.
Arki-Bond C27 is ideal for bonding natural stone, mosaic, procelain, ceramic and glass tiles to most common building substractes including concrete, cement/sand render, screeds, brick and block work and existing tile surfaces.
Arki-Bond C27 is chemically designed to fix not only tiles of low porosity but also non-absorbant ones. With the launch of Arki-Bond C27, Arki now offers complete range of tiling systems suitable for all types of tiles and substrates.