Arki News >
Arkimix RP507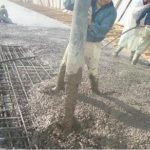 Arki has introduced a new concrete admixture, Arkimix RP507, to meet the increasing demand for improved efficiency of the overall concrete industry.
Arkimix RP507, set-retarding and plasticizing admixture for concrete, enables concrete producers to gain control over workability between the batching plant and the placement site especially in hot weather. The lengthy workability tile helps reduce problems caused by external factors such as traffic conditions and site preparations, which can make it difficult to estimate the time between batching and placement of the concrete.
Adding Arkimix RP507 to the product portfolio of Arki, represents a major landmark in admixture innovation.